The dining, bar and entertainment hybrid concept is all the rage these days in Singapore; the typical well-heeled patron is no longer willing to contend with places that don't meet their need to be wined, dined and thoroughly entertained, all in one snazzy-looking spot in town.

Not much is known yet about new dining destination Zafferano — which has been slated for a mid-July opening — but based on the first round of information, it looks right on track to woo these patrons with its "hippiest dinng and lounge" concept.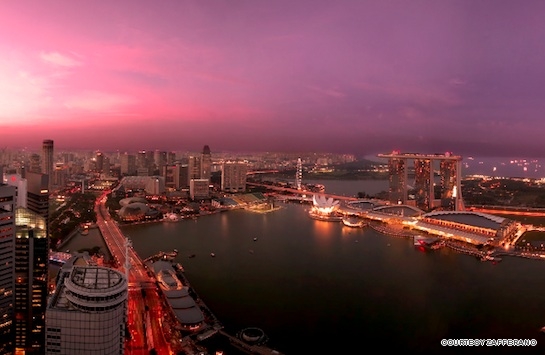 One of the biggest draws of Zafferano — the stunning views it affords from its vantage point at the top of Ocean Financial Centre
Love wining and dining with a view? Check out our picks for best rooftop bars, best waterfront bars as well as restaurants with the best views in Singapore.
What's the buzz: Located at the top floor of the Ocean Financial Centre in Collyer Quay, Zafferano's sky-high hybrid concept puts it in the good company of other similar, and successful places like 1-Altitude and Ku De Ta. Wine and dine duties fall on chef Roberto De Franco, who will whip up an extensive contemporary Italian menu, while resident DJ Kate Matthews provides sonic stimulation.

The look: Never mind the wood, leather and marble finishes; what will be distracting you from your food is the restaurant's dining area, which promises a 270-degree view of the island, including the all-important bird's eye view of the Singapore Grand Prix circuit.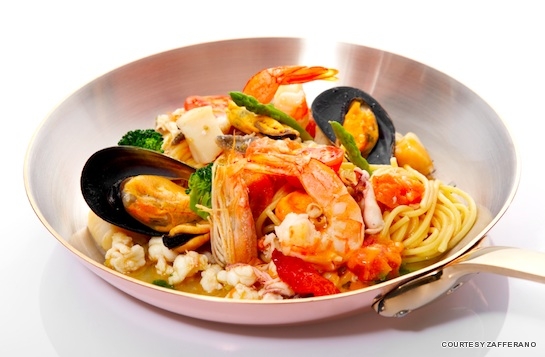 Contemporary Italian cuisine will be served at Zafferano, in moderately-sized portions that makes it perfect for sharing.
Food and drinks: Contemporary Italian cuisine is the name of the culinary game at Zafferano, but food will also adapt the tapas style of moderately-sized portions and shared dining, spannng across seven varieties of cuisine — Cucina di Mamma (Mum's Kitchen), Terra (Earth), Verde (Greens), Mare (Ocean), Griglia (Grilled Meats), Delicate (Delicatessen favourites) and Dolci (Sweets). An antipasti bar will offer a semi-buffet during lunch, and a selection of appetizers during the evening. A Sunday brunch is also in the works.

And since nothing goes better with hearty Italian cuisine than a glass of wine, Zafferano will offer over 200 Italian and premium labels in its custom-designed, temperature-controlled wine cellar and cabinets. Over 40 wines by the glass will also be on offer.

Also look out for: The circular bar, which will form the focus of the space and the spot to watch in-house mixologists whip up a host of classic and exotic creations. Also, if you stay late enough on Fridays, Saturdays and Sundays, the ambient music will morph to upbeat dance beats that will set the tone right for the weekend.

Zafferano, Level 43, Ocean Financial Centre, 10 Collyer Quay, +65 6509 1488