Stephane Gerschel must get endless requests for one of his famed dinner parties. After all, this is the guy that not only heads the global communications team at one of the prestigious Maison Veuve Clicquot, but also penned numerous books, including the latest social cookbook "The Seasons of Veuve Clicquot", based on his extensive travels, attendance of exclusive events and meeting of the most fascinating people. Yes, this is the guy who essentially knows everything about the perfect party, and then some.

"The White Tie and Tiara party by Elton John two years ago was probably the best party I've ever been to — there were live performances by Elton and Lady Gaga and everything was just crazy," he enthuses, recalling some of his favourite party memories.

While we might never get to party with the likes of Hollywood royalty, it's never too late to learn to party just like them. We down a glass of fizzy with Gerschel when he was in town for the Savour Gourmet Festival, and talk champagne pairing, common misconceptions, and party essentials that'd jazz up that soiree in ways you'd never thought possible.
We also spoke to François Hautekeur, oenologist at the Champagne House of Veuve Clicquot in France.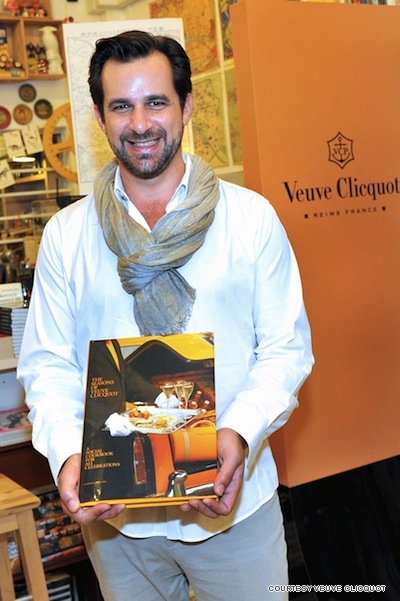 Stephane Gerschel's latest social cookbook, The Seasons of Veuve Clicquot, features delectable menus customised by the world's leading chefs.
We all know the basic rules for wine pairing. My own rule of thumb when it comes to champagne pairing is…

"People tend to forget that champagne is a wine in itself. With Veuve Clicquot, we have a fantastic range that allows for lots of possibilties for pairing — you can absolutely have a complete meal, each paired with a different Veuve Clicquot champagne."

For me, I'll pair a starter of scallops with some Vintage 2004, then veal with a Vintage 2004 Rose. For dessert, I'll have either a Vintage Rich or Demi-Sec, which is a sweet champagne that goes very well with desserts."

However, I'll never pair champagne with…

"Chocolate. The bitterness of the chocolate really clashes with the acidity of the champagne."

But for a match made in heaven…

"Just one? I would say the truffle risotto with the Veuve Clicquot Vintage 1990. It just goes perfectly. The Vintage 1990 has the earthy taste of nuts that goes well with the truffle, and is extremely delicate. I also love foie gras with the Vintage Rich 2002, which has a slightly higher dose of sugar. Otherwise, it's a nice roasted duck with the 1995 Veuve Clicquot La Grande Dame. "

Biggest misconception about champagne…

"That it's only for special occasions! We should find a way to celebrate every day — even small events should be celebrated by popping a cork. Another common misconception is that champagne can't be kept. We recently discovered some bottles of Veuve Clicquot from the bottom of the Baltic Sea that date back to the 1840s — it tasted delicious and still had a fizz!"

Three party tips to ensure a fabulous soiree…
"Don't try to be over-ambitious — you should always focus on making your guests feel comfortable. A good crowd to me, is a mix of people from all sorts of backgrounds. It's fantastic to meet people who bring you new friends!"

"Of course, good quality food is always important. Nothing beats a nice delicious salad and some fancy cheeses. In the summer for example, I love to have big baskets of raw vegetables with some nice Rose champagne, followed by some veal parmigiana and angel hair pasta. That always makes everyone happy."

"And finally, music is always important! Personally, I love live music."

If you're interested in finding out more about the fascinating art of wine pairing, don't miss our Flavours of Asia wine pairing series, where our expert matches Asian cuisine with great wines.