We've been eagerly anticipating celebrity chef Jason Atherton's second venture with noted local hotelier Loh Lik Peng since we first got wind of the news during our interview with him for Esquina late last year.
 
"It's going to be a Mediterranean restaurant with… an actual real-life working Mediterranean garden. It's just like being in the Mediterranean — it's absolutely beautiful," he had enthused. And we had waited patiently. Now, half a year later, Pollen Restaurant is open and ready to welcome hungry visitors of Gardens by the Bay and fans of Atherton's irreverent cooking style.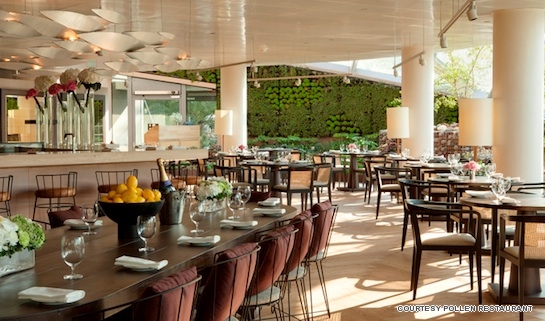 Pollen Restaurant is designed and decorated such that it emulates the experience of dining in a Mediterranean garden.
What is it: As Atherton has promised, Pollen, the only restaurant located within the Flower Dome, serves mainly Mediterranean-inspired modern European cuisine with a dash of good ol' classics from his flagship London restaurant Pollen Street Social. His Singapore outpost also enjoys the luxury of being situated in the climate-controlled Flower Dome, which keeps the temperature — even when you're dining "al fresco" at the upper level terrace — at a comfortable 20 degrees Celsius.
 
The look: Temperate olive trees, herbs and vegetation decorate the interior of the 560 square metres space, and while it's not quite the Mediterranean garden dining experience we've envisioned, there's an inexplicable charm at the thought of having your food's herbs and spices grown and plucked from an in-house garden. Bring along your sunnies — it might be cool indoors but the afternoon glare could be rather merciless.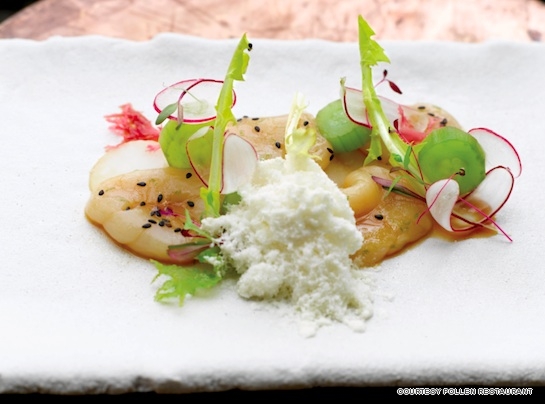 The menu at Pollen Restaurant features some of the signature dishes at Jason Atherton's London Pollen Street Social, including the scallop carpaccio starter.
Must-try: True to its Mediterranean influences, the menu at Pollen is seafood-heavy, gussied up with Atherton's flair for the intriguing and creative. The scallop carpaccio (S$26) and deer tartare starters, both Pollen Street Social signatures, are testimonial to Atherton's knack for finding that perfect balance in flavours and textures. The former is exquisite, a mix of sweet apple slices, tangy scallops and an interesting horseradish snow, while the pickled beetroot provides the well-textured meat with a nice acidic contrast in the latter.
 
The mains are just as well-executed. A roasted seabass is cooked to tender perfection with just a hint of a crisp in the skin and laced with a most delicious smoky tomato dressing. The marinated lamb cutlets, accompanied by artichokes, asparagus, prickly ash, are probably the highlight of the meal for us. The meat is fall-off-the-bone tender, and seasoned so precisely that there's no gamey taste at all.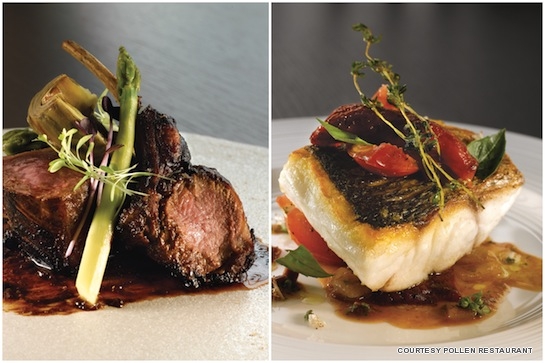 Mains like the marinated lamb cutlets and roasted seabass are among some of the highlights on Pollen Restaurant's menu.
Atherton passes the baton to executive pastry chef and fellow alumnus of elBulli Andres Lara for dessert, who rounds off the meal with a flourish. His desconstructed take on the classic peanut butter and jam (or PB&J, S$16) might just be one of the best desserts we've ever had — the smooth and fragrant roasted peanut parfait contrasts most deliciously with a fruity concoction of pomengranate, tart cherry yuzu sorbet and cherry puree.
Verdict: Pollen Restaurant's probably one of the most highly anticipated restaurant openings this year (the restaurant was almost at full capacity during our lunch tasting), and it soundly delivers, with Atherton injecting almost a sense of fun and irreverent touches into the modern European dishes we've become accustomed to. And judging by the popularity of Esquina a mere six months after its opening, it's probably wise to start making reservations at Pollen now.
 
Pollen, 18 Marina Gardens Drive #01-09, +65 6604 9988