There seems to be no stopping the culinary whirlwind that is Bruno Menard. Barely two months after the opening of his snazzy gourmet burger joint &MADE at Scotts Road, he's back with yet another venture with restaurateur Olivier Bendel. Other chefs might be a little more hesitant about opening two restaurants in as many months, but Menard apparently has no such reservations.
Kudo indeed, given the fickle nature of local diners, but if you asked us Menard is merely playing the strategic game of "striking while the iron is hot"; &MADE is already drawing incessant queues on the weekend nights (expect to wait up to 45 minutes for a table), never mind that the restaurant is still tottering along on wobbly legs and quality standards are not always consistent.
Olivier Bendel's stable of restaurants also includes 83, Forlino as well as Sabio Tapas Bar and Restaurant.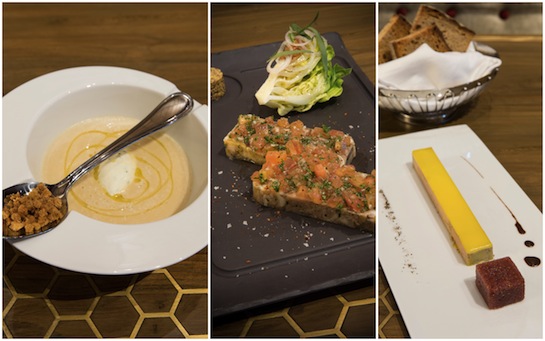 Signature starter dishes at La Cantine by Bruno Menard include (from L to R) Cevennes Onion soup, country pork head terrine and duck foie gras terrine.
What's the buzz: Just as how &MADE has served as Menard's playground for experimenting with the good old fashioned burger, La Cantine will feature classic French fare, given a not-so-classic treatment; the upside-down rooster logo serves as an indication of "seeing and experiencing things, quite literally, from a unique perspective". "Flipping the national emblem on its head represents our fresh approach to French cuisine and that we don't take ourselves too seriously in the process," explains Bendel.
Food and drinks: Starters range from the intriguing "La Tomate Farcie", a Momotaro tomato filled with zucchini chutney and olive oil, served with Yuzu-kosho tarragon sorbet, to the more traditional Nice salad and terrines. Recommendations for fish and meat dishes include the soya scented steamed Scottish salmon (talk about a tongue-twisting alliteration) as well as a caramelized pork belly and "La Bavette", or beef flank.
In a blatantly pandering move (not that we mind), Menard has also added a couple of his signature burgers (in particular, the sumptuous B Burger and hearty 3 Little Pigs burger) to the lunch menu. A sure-win move, we say.
Also look out for: La Cantine's set lunch menu, featuring an amuse bouche, plat du jour (or Chef's daily suggestion) as well as a dessert for just S$39. Who says you can't enjoy quality fare during lunch? 
La Cantine by Bruno Menard, #01-01 Asia Square, Tower 1, 8 Marina View, +65 6690 7567, reservations@lacantine.sg, www.lacantine.sg