Singapore's been some sort of a sweet spot for culinary bigwigs and rising young stars in the recent years. These chefs — many of which are revered big names — seduced by the promise of a vibrant food scene, and an ever-growing voracious appetite for the new and the fancy, have descended upon the city-state with an arsenal of glitzy fine-dining establishments and charmingly low-key restaurants alike.
But amidst all the Michelin-starred reputations (including "Chef of the Century" Joël Robuchon and the elBulli-trained Jason Atherton) and celebrity personalities (Jamie Oliver's home-style Italian restaurant is set to open in the third quarter of 2013), it's a young chef, all of 36 years old and swimming alongside the big sharks in the whirlpool that is Singapore's culinary scene, that has perhaps made the biggest splash.
Even if we were to dismiss the tangibles of accolades and awards (he is one of Asia's Top 10 Young Chefs, and his eponymous restaurant was recently lauded as one of the "10 Restaurants in the World Worth a Plane Ride" by the New York Times), chef Andre Chiang's obsession with continuously pushing the limits and boundaries of culinary perfection, together with his inimitable, distinctive style, have left an indelible mark on diners' expectations of taste and cuisine.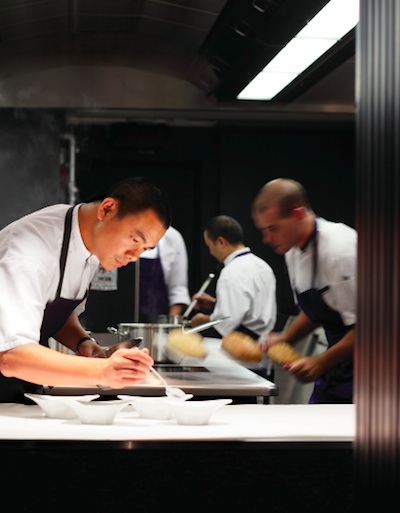 Chef Andre Chiang works by the philosophy of "Octaphilosophy", which is "based on how our capacity to taste food is influenced by our memory banks, including the personal experiences we acquire over time".
"It's very important to communicate with people, not just with language, but also with food," says chef Andre, who insists on cooking for his guests every single day, going even to the extent of closing Restaurant ANDRE if he goes out of town. And while the French-trained Taiwanese chef is fluent in four languages, it's his self-coined "Octaphilosophy" that's his preferred form of communication at Restaurant ANDRE.  
"[Octaphilosophy] is based on how our capacity to taste food is influenced by our memory banks, including the personal experiences we acquire over time," he explains. The eight primary elements –  unique, texture, memory, pure, terroir, salt, south and artisan — essentially reflect his experience working in the south of France and the influences of some of the masters of "Nouvelle Cuisine", including Pierre Gagnaire, Pascal Barbot and Jacques & Laurent Pourcel. It all sounds a tad complicated, but in the kitchen of Restaurant ANDRE, chef Andre conjures up startling creations that meld impeccable technical sleight of hand and boundless creativity with quality produce. The tools and skills are his words, and his food, the story that he lives for to convey to his diners everyday.
So where does one even go from here? In just two short years, Restaurant ANDRE has achieved what many in Singapore can only dream of, bagging the second spot for Best Restaurant in Asia by Miele Guide 2011 and was named one of the top 100 restaurants in the world in the San Pellegrino Guide 2011. It's an awful lot of expectations to live up to, but chef Andre has no grand plans, except to still "be doing what [he's] passionate about, and remain [true to the ] original intention of pushing the boundaries". His one main ambition — to "really make Singapore and Asia a different scene with gastronomy".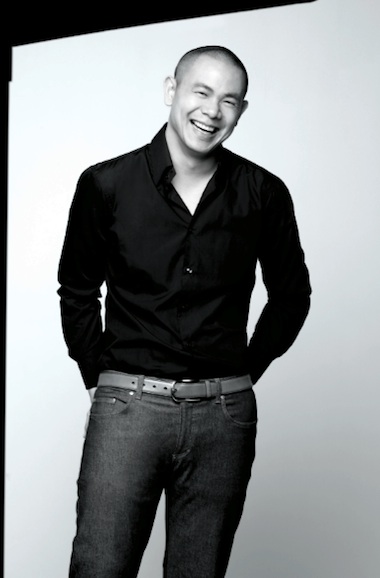 No grand plans for world domination just as yet — chef Andre Chiang intends to continue remaining true to his passion of pushing boundaries in the kitchen.
LifestyleAsia (LSA): Many celebrity chefs eventually branch out into television or publishing. Is that something you'd consider in the future?
Andre Chiang (AC): I don't think I will branch out at all, being in my kitchen cooking for my guests is something I must do every day. However I am documenting my "Octaphilosophy" for eventually publishing a cooking philosophy book.
LSA: Your next project is the Margaret River Gourmet Escape in Australia. What would you be bringing to the table there? What are you looking forward to the most at the festival?
AC: I will be doing a demo with Justin North entitled "French lesson", [and] presenting new creations inspired by the classic French dishes.
Every time I visit Australia I am always excited about the diversity of produce that we can see and taste throughout the country, [as well as] the phenomenal landscapes and of course the winery that we will be visiting this time! Margaret River Gourmet Escape is for me one of the best culinary festivals and I am delighted to be a "Friend of Australia".
LSA: What do you do when you're not working in the kitchens of Restaurant ANDRE?
AC: I enjoy doing pottery — I made some of the plates I use in my restaurant.
LSA: If you could have anything in the world as your last meal, what would it be?
AC: My mom's famous "spicy pig ear salad with coriander and baby leeks".
LSA: You go by "Octaphilosophy" in work. How about in life?
AC: I enjoy living the moment, I don't intend to plan my life too much [but] appreciate my time with my wife whom I never spend enough time with.
Restaurant Andre, 41 Bukit Pasoh Rd, +65 6534 8880
Margaret River Gourmet Escape will be held from 22 – 25 November in Leeuwin Estate Winery. For more information and tickets, please click here.