A Japanese restaurant that's not being helmed by a Japanese chef is sure to raise some eyebrows and disgruntled remarks from purists. But before you dismiss it right off the bat, the new-ish contemporary Japanese restaurant Seki, located at Rendezvous Gallery is in good, if not Japanese, hands.

What is it: Originally the namesake restaurant of acclaimed Japanese chef Takuma Seki, Seki is now led by Malaysian-born executive chef Dawn Pau, who previously was the very first non-Japanese head sushi chef at the then-Inagiku (now Mikuni) at Fairmont Singapore. While we didn't get a chance to try out the dishes at the restaurant when it was still under the helm of the previous chef, there doesn't seem to be any major changes in concept. Seki is still very much about the marriage of quality Japanese ingredients and modern execution styles.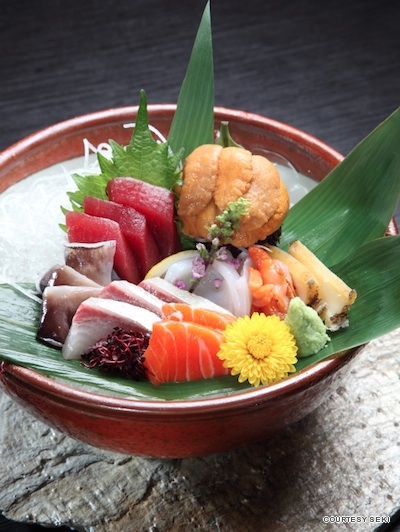 Beautifully presented sashimi is just one of the highlights on Seki's Grand Omakase menu.
Must-try: A good variety of lunch sets is available but if you have the time to spare, the Grand Omakase menu (S$88), whereby the entire meal experience is essentially entrusted to chef Pau, is one to indulge in.

The meal started off with a interesting, if slightly strange, sashimi cocktail, in which slices of fresh sashimi were served in a shot glass with sake and grape soda. The appetizer of tomato and scallop in sesame dressing was less memorable and more pedestrian, but the next course, a beautifully presented bowl of sashimi on ice consisting of slices of toro (fatty tuna), hamachi (yellowtail) and ama ebi (spot shrimp) quickly raised standards; the sashimi were expectedly fresh, succulent and sweet.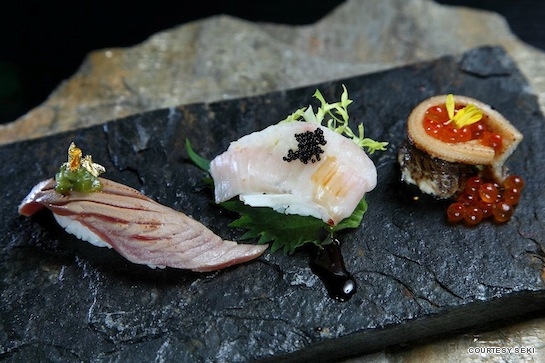 Executive chef Dawn Pau takes pride in the presentation of his dishes as much as the quality of ingredients.
The foie gras chawanmushi was the token mod-Japanese offering, and was palatable enough, though the egg custard was not quite as silky smooth as we'd hoped (like the one we had at Fat Cow just the week before). But never mind that, because the following main course, the Gyuniku grilled beef sirloin served with pan-fried apples and a dash of cheese stole the show with tender beef that had been marinated for two days in a special recipe sauce.
The successive main course was equally impressive; the Gindara Saikyo Robatayaki, or charcoal grilled codfish, came marinated in traditional Saikyo miso seasoning, and was wonderfully tender, the sweetness of the cod enhanced by the miso. The plate of of lightly seared toro, engawa (halibut fin) and uni (sea urchin) Aburi sushi rounded off the main courses soundly, while the Macha Ume Ice, a concoction of red bean paste with shaved ice and plum wine jelly closed the entire meal on a sweet note.
Verdict: For someone who's taken over the restaurant for only about a month or so, chef Pau seems to have settled into the job comfortably — his innate understanding of Japanese cuisine shines through, if a little cautiously. It's quality fare, at extremely reasonable prices, perfect for those times when you want something fancier without paying through your teeth.

Seki, #01-02 Rendezvous Hotel Gallery, 9 Bras Basah Road, +65 6336 3806