Chef Claudio Sandri, the chef of one of our favourite brasseries in Singapore, Brasserie Wolf, originally wanted to be an electrician — until he was made to step into the kitchen to cook for his sisters while his mother went to work. Luckily for us, he soon found his calling after.

This week, we find out what the cheerful Swiss native gets up to when he's in the kitchen, and when he's out of his chef's whites.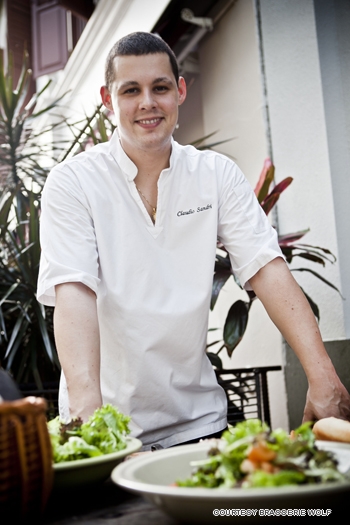 Besides running the kitchen at Brasserie Wolf, chef Claudio Sandri is also a "Chef for Hire" for those who want an authentic slice of French food for their house parties.
10am: The day kicks off on a busy note of prepping ingredients for me and my team; I meet suppliers and taste new products. Working within my budget, I am always trying to get the best and naturally-sourced ingredients available.

If I'm not running the restaurant, I'm also doing "Chef For Hire" and private caterings, where I go to the customers' homes to prepare a meal. All customers have to do is give me a budget and leave all the menu planning and cooking to us! Sometimes they want a hands-on cooking class at their home which I like even better, because then, I get to enjoy a glass of wine too!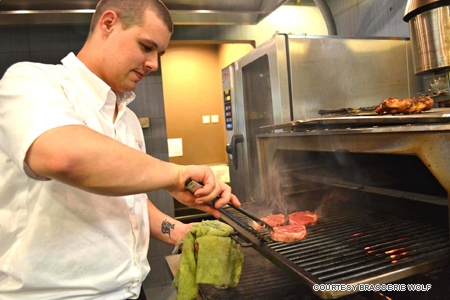 The Josper Grill in the kitchen of Brasserie Wolf is chef Claudio Sandri's favourite piece of equipment.
11am: We've come up with a new menu of Josper Grill specialties, which makes me happy because the grill, imported specially from Spain, is my favourite piece of equipment in the kitchen. It doesn't use electricity and runs purely on slow-burning white charcoal, and is perfect for preparing ingredients from portobello mushrooms and roasted vegetables; to whole fish, prime meats, foie gras and even rice, potatoes and soups.

I had to teach Belbo, one of my guys, how to use this oven and now, he might even be better than me at using this state-of-the-art oven!
Brasserie Wolf's Josper Grill rougie foie gras with Griottine cherry sauce is indeed delicious — we picked it as one of the best foie gras dishes in Singapore. Find out who else made the cut.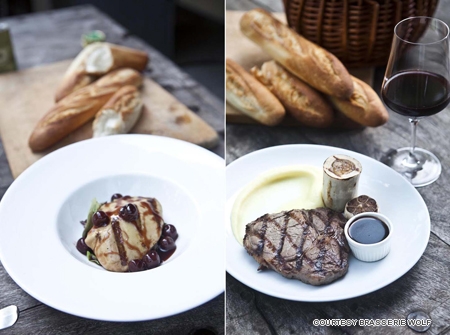 Don't forget to check out the new Josper Grill specialties the next time you pay a visit to Brasserie Wolf.
Don't miss some of the Josper Grill dishes the next time you're around the restaurant! Some of my favourites include the grilled rougie foie gras with Griottine cherry sauce, and USDA Choice ribeye with bone marrow and bordelaise sauce. The grill cooks them quickly and seals in all the flavours and juices.
Love steaks? Find out which steakhouses in Singapore make a mean steak that's worth paying for.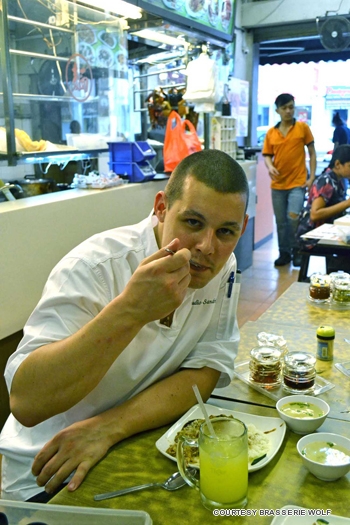 Chef Claudio Sandri sure loves his Asian food — when he gets the time, he'll have local food at a nearby coffeeshop at River Valley Road.
1pm: If I have time, I usually sneak off to the nearby coffeeshop at River Valley Road and tuck into a plate of chicken rice or a bowl of laksa. I love local food and exploring new tastes.

Just the other week, I did a fun recipe challenge for a magazine using exotic Asian ingredients like buah keluak and cincalok to create French-style dishes. I really enjoyed doing this, because I get to see and understand the traditional local food scene better by getting involved with these unique ingredients.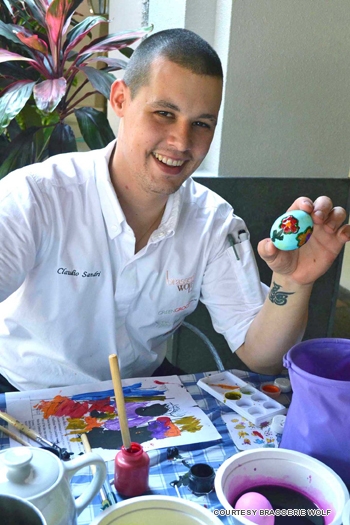 Chef Claudio Sandri doesn't just work in the kitchen — he helps out with festive preparations on special holidays as well.
4pm: We are preparing for Easter Sunday brunch today so I chip in with the preparation by painting the Easter eggs. I think I made the best looking eggs, but I'm not sure if everybody would agree with that though… I drew a lot of different coloured flowers on the eggs. They were very nice and no one could keep up with my designs!

Nothing goes together better than French food and wine. Chef Claudio Sandri works closely together on wine pairings with Cedric Kerhir, the French manager at Brasserie Wolf.
6pm: Wine and cocktails are also an important aspect of our restaurant business so we all work closely together on wine pairings with Cedric Kerhir, our French manager. Today, he educates me on the wines we have in our walk-in cellar. Our bartenders have also just created some new cocktails for the al fresco bar: great for sunset tipples and after dinner/work drinks on weekends!
If you're interested in finding out more about the fascinating art of wine pairing, don't miss our Flavours of Asia wine pairing series, where our expert matches Asian cuisine with great wines.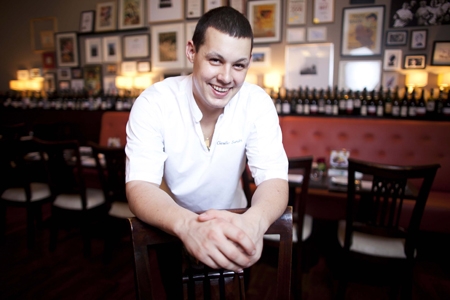 When Chef Claudio Sandri isn't cooking in the kitchens, he's getting inspiration from other restaurants while he's dining out.
8pm: I get off from work a little earlier today, and in my free time, I like to check out new restaurants in town, I tried Fat Cow today, and had fresh abalone, wagyu beef tataki and Kogoshima grilled steak. The food was super delicious, fresh and very well-prepared, but also quite pricey.

I make it a point to check out new places in Singapore, so that I get inspired by the new ingredients I see being used in other places. Whenever I see something new, I get really excited!