It's been three years since its beginnings, and Asian Masters is back in Singapore for a month of gastronomic highlights this November. Whether you're a die-hard foodie or have a simple but profound appreciation of eating, this event will have something catered to you.
From demonstrations to workshops and luncheons to gala dinners, "from the man on the street to the elite", Asian Masters promises to leave you spoilt for choice. Brace yourselves and ready those appetites, because the month-long food festivities are sure to leave you in more than a few immensely satisfying-if-uncomfortable food comas.
We pick a few of the highlights you should be looking into.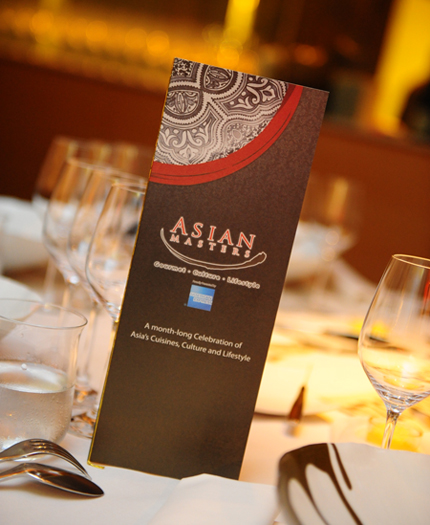 1. Japan 'Meats' France at Fat Cow
This one is created just for you crazy meat lovers out there. Enjoy Kagoshima Beef and Kurobuta Pork at one of our favourite places, Fat Cow, paired with fine wines from Louis Latour. We can't think of a better way to spend a Wednesday night.
Japan 'Meats' France is on 14 November 2012 at Fat Cow, priced at S$198++ per guest.
2. Dine with André's Chef André Chiang
Known for using only the freshest seasonal produce, Chef André has specially crafted a 6-8 course menu paired with bio-dynamic wines from Artisan Cellars. Try this "culinary match made in heaven" and take your knowledge a step beyond organic farming; learn about what moons, harvesting phases, and aligning planets have to do with farming!
This one-night only event is on 7 November 2012, and is priced at S$368++ per guest.
3. The Masters' Workshops
This one is sure to be a crowd pleaser, with 15 local chefs from Singapore Chefs' Association putting on a series of intimate cooking demonstrations of Asian-inspired dishes, followed by tasting sessions. Some well-known names in the line-up include Chef Daniel Sia of The Disgruntled Chef, Chef Martin Foo of Tóng Lé Private Dining, Chef Eric Neo of InterContinental Singapore, and Chef Robin Ho of The Marmalade Group.
The Masters' Workshops will take place at the Atrium of Great World City from 2-4 November 2012, starting at 2-hour intervals from 10am to 6pm.
Asian Masters is from 1 to 30 November 2012, with reservations opening to the public on 16 October. (Reservations are already open to American Express Cardmembers.) 
For ticket purchases and reservations, simply visit www.asianmasters.com.sg or call +65 6319 1888.