We're no strangers to casual Spanish cuisine here in Singapore. After all, we do boast a decent number of, if a tad lacklustre, tapas bars that run the gamut from the traditional (Sabio Tapas Bar and Restaurant) to the more newfangled (Jason Atherton's Esquina).
 
Spanish fine-dining restaurants however, is practically non-existent, especially since the closure of Santi at Marina Bay Sands. New contemporary Spanish restaurant Catalunya, slated for a mid-July opening, looks set to fill this gap — this is one restaurant that we can categorically say that we're really excited for.
What's the buzz: Catalunya had us at "team trained by elBulli's multi-talented culinary experts" — this might be the closest we'd ever get to actually experiencing the magic of Ferran Adria, considering that elBulli's since closed its doors. Don't expect the outrageous molecular gastronomy that Adria's so well-known for of course; Catalunya will apparently serve a menu that "reflects the diversity of Spanish cuisine".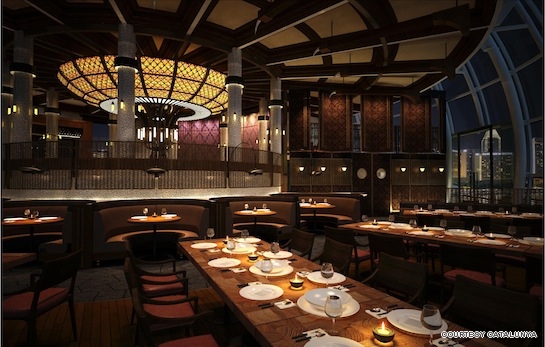 Catalunya is no casual tapas restaurant — it's set to offer authentic Spanish experience with a modern twist, in a posh, cozy environment.
The look: With the names attached to Catalunya, it's probably fair to anticipate nothing but the best; the 4,300 square feet, 120-seater restaurant will be fittingly posh, set in the somewhat dramatic-sounding "glass-encased dome" of The Fullerton Pavilion, floating atop the waters of Marina Bay, and furnished with all the rich lustrousness of a Spanish Boqueria. Expect a 360 degree view of the surrounding city skyline as you tuck into traditional and contemporary interpretations of Spanish cuisine.  
 
Food and drinks: Details about the menu are still scant at the moment, but Catalunya will be helmed by chef Alain Devahive Tolosa, who's had a decade of experience in the kitchens of elBulli Restaurant and elBulli Catering and is well-versed in the techniques and products developed at elBulli. Another elBulli veteran is restaurant manager Pol Perelló, who will be in charge of building an authentic Spanish experience for each and every guest.
 
Mixology duties falls to award-winning mixologist Dario Nocentini, who will be inventing unique and high-quality creations to complement the menu.
 
Catalunya, The Fullerton Pavilion, 82 Collyer Quay, www.catalunya.com.sg