Remember our emphatic statement regarding the rising trend of seasoned culinary players in Singapore such as Jason Atherton (of Esquina) and Vincent Teng (of Skyve Elementary Bistro & Bar, previously of Table 66) tossing out the fine-dining concepts in favour of more casual establishments? The French chefs, in particular (such as Frederic Colin of Brasserie Gavroche, previously Brasserie Les Saveurs of St. Regis), are favouring the time-honoured way of food preparation, trotting out Grand-pere's generations-old recipes and doling them out in generous home-style portions.

And now we have chef Jean-Charles Dubois, who's since ended his stint at The French Kitchen and set up his own unassuming French bistro, Balzac Brasserie, at Rendezvous Gallery.

What is it: Balzac Brasserie is all-French, all-homely-unpretentious-goodness in a rustic bistro setting made up of random curio and bric-a-brac for a earnestly Parisian feel. In this cozy little corner (the place remains blissfully dim even in the glaring sunlight of the afternoon), chef Dubois, who hails from the village of Angers in Loire Valley, France, works his magic on the food, inspired by simple recipes from his family's kitchen.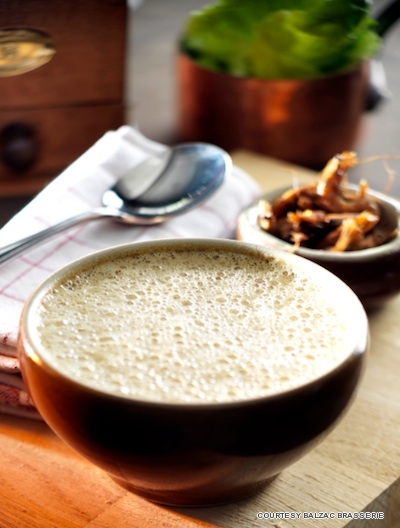 The lobster bisque is chef Dubois' signature at Balzac Brasserie — it's rich and flavourful yet light on the palate.
Must-try: We skipped the recommended foie gras de "castaing" (S$24) out of sheer preference for the more pedestrian pan-fried foie gras with caramelized apples (S$26) and wasn't quite impressed (definitely wouldn't make it to our picks for best places to have foie gras in Singapore), but chef Dubois' signature lobster bisque with sautéed organic baby Mozambique 'Black Qwehli' prawns (S$16) quickly made up for it; the soup is heavy on taste, yet airy in texture and surprisingly light on the palate, as oxymoronic as that sounds. Dunk the tiny prawns into the soup for more taste, or munch on them like a snack — it's delicious either way.

The mains of grilled organic Mozambique prawns with light saffron risotto (S$26) and Toulouse sausage (pan-fried Kurobuta pork sausage) served with sautéed spinach and Pommery mustard sauce (S$24) are both generously portioned and charmingly rustic. The thick pork sausage in particular presents plenty of satisfying crunch and comes accompanied with a smooth and savoury mash that's lovely.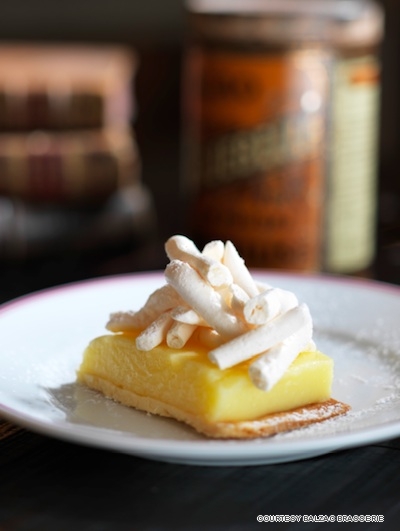 End your meal with a palate-cleansing lemon tart — its tartness is offset by the sweetness of the accompanying meringue.
The desserts menu is just as fuss-free as the rest of the menu, and our picks of tarte au citron, or lemon tart (S$9) and homemade salted caramel ice-cream, made a la minute (S$5 per scoop) are comforting treats for a Friday lunch. The lemon tart, presented deconstructed with a biscuit base and topped off with meringue, could be a little too tart, depending on your palate. We personally loved it though, and liked the contrast of sweet meringue, tart custard and buttery crust.

Verdict: The food at Balzac Brasserie isn't particularly exciting or memorable, but isn't that exactly what home-style food's supposed to be? Its appeal lies in its approachability — it's uncomplicated, with no frills nor fuss, and you can't help but leave feeling terribly charmed by the sheer French-ness of it all.

Balzac Brasserie, #01-01 Rendezvous Gallery, 9 Bras Basah Road, +65 6336 0797, www.balzacbrasserie.com