Austrian wines may not enjoy the same kind of widespread popularity as its French and Italian counterparts, but rather than it being a slight on their quality, the uniqueness and versatility of Austrian wines have made them a rare specialty amongst wine aficionados, slowly but surely gaining international acclaim. Small but beautiful, many have described them — much like the country itself.

And in celebration of one of the most interesting wines in the world, the Austrian Wine Festival will make a return for the third time from 17 February to 17 March 2012. The month-long celebration promises to bring wine lovers upclose and personal with eight winemakers from top Austrian wineries, allowing them to savour a wide variety of premium Austrian wines paired with exquisite dishes prepared by Singapore's iconic Austrian chefs with an exclusive series of wine and dinner pairings.

We pick three of the events highlights at Austrian Wine Festival you simply cannot miss if you have a taste for wine that goes beyond the usual suspects, or even if you just want to find out more about wine from this fascinating region.
Wine connoisseur Henry Hariyono shares some pointers for all those looking to start a wine collection of their own at home.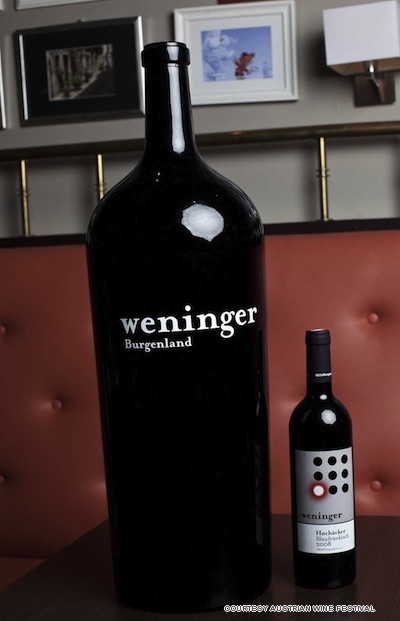 For the first time, magnificent 12-litre Balthazar bottles (one bottle is equivalent to 16 standard bottles) will be making their appearance at the opening event of the Austrian Wine Festival.
The Balthazar Night at Brasserie Wolf
What: Austrian Wine Festival opens with a bang with a convivial wine-food pairing dinner at Brasserie Wolf, featuring top Austrian wines served from magnificent 12-litre Balthazar bottles (one bottle is equivalent to 16 standard bottles) directly flown in from the wineries' cellars. The exclusive eight-course Austrian menu will feature the creations from top Austrian chefs in Singapore, including Chef Armin Leitgeb of Les Amis, Chef Karl Dobler of Table At 7, Chef Stephan Zoisl of Novus – and 1-Michelin star guest chef, Christian Winkler of Restaurant Schindlhaus, Austria.

When: 17 February 2012 (Friday), 7pm

Where: Brasserie Wolf, 80 Mohamed Sultan Road, The Pier at Robertson #01-13

Price: S$199++ per person (Guests will also bring home a complimentary bottle of Markowitsch Pinot Noir Reserve 2004, and American Express Cardmembers with bin numbers starting 37620 and 37621 enjoy 15% savings)

Austrian Cuisine, Refined, at Les Amis
What: This exclusive wine dinner presents a taste of refined Austrian cuisine created by Austrian chef de cuisine of Les Amis, Armin Leitgeb, together with 1-Michelin star chef Christian Winkler from Restaurant Schindlhaus in Austria. Winemaker from Tement vineyard will be present.

When: 18 February 2012 (Saturday), 7:30pm

Where: Les Amis, 1 Scotts Road, #02-16 Shaw Centre

Price: S$288++ per person (American Express Cardmembers with bin numbers starting 37620 and 37621 enjoy 15% savings)

Wine Tasting and Masterclass with Michael Thurner and Winemaker of Markowitsch
What: Get in-depth knowledge about your favourite Austrian wines with Austrian wine expert Michael Thurner and winemaker of family-owned winery Markowitsch at an exclusive wine tasting and masterclass at Praelum Wine Bistro.

When: 10 March 2012 (Saturday)

Where: Praelum Wine Bistro, 4 Duxton Hill, +65 6238 5287

Price: To be confirmed

Austrian Wine Festival will be held from 17 February – 17 March 2012 at various participating restaurants and venues. The public can make reservations directly at the respective participating restaurants and venues. For more info on the events and the participants' details, please visit the website www.austrianwinefestival.com.

American Express is the presenting partner for the Austrian Wine Festival 2012 and American Express cardholders will enjoy exclusive dining privileges and discounts.