Snowskin mooncakes, the (literally) cooler cousin of the staid, traditional mooncakes are always a treat with their delicate, flavourful skins, and innovative fillings.

While some snowskin mooncakes go overboard on the creativity and border on just plain strange, you can be sure that the top five snowskin mooncakes we've chosen will be nothing but a delight for your taste buds (no worries, the mooncake stuffed with gummy bears didn't make the cut).

Fullerton Hotel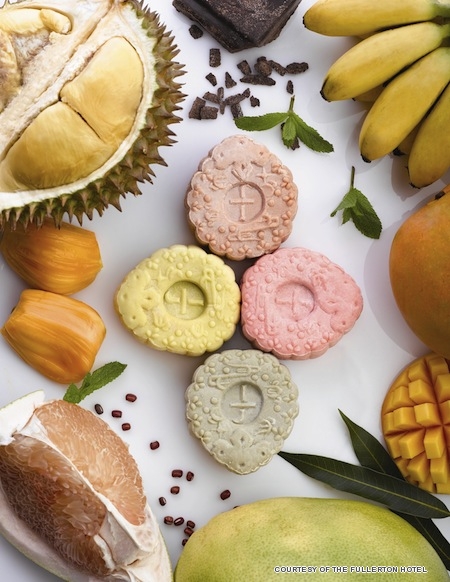 Fullerton Hotel's new snowskin mooncake offerings this year are interpretations of popular desserts like mango sago and durian red bean.
Our vote for the most appetizing array of new Singapore mooncakes this year goes to Fullerton Hotel for their range of tropical fruit snowskin mooncakes that includes mango pomelo with sago, honey pineapple, chocolate banana with chocolate chips and durian red bean (S$55 for four pieces each).

While many lesser fruit mooncakes often end up cloyingly sweet, Fullerton's offerings find the careful balance. Our favourite is the honey pineapple version, which is generously filled with caramelised pineapple paste that's equal parts sweet and tart — it resembles the Chinese New Year favourite pineapple tart, but even more addictive.

The Fullerton Hotel, 1 Fullerton Square, +65 6877 8178, fullertonshop@fullertonhotel.com

Goodwood Park Hotel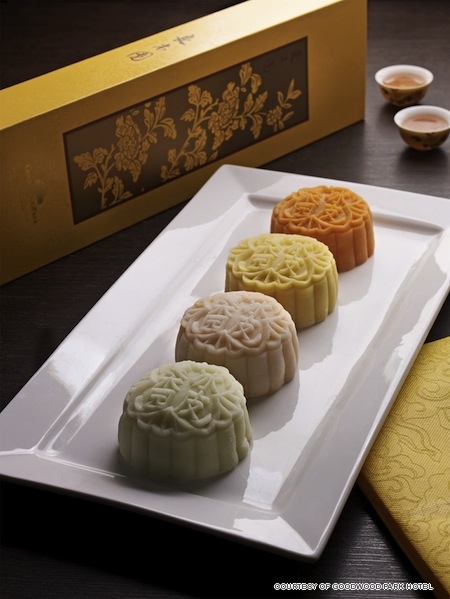 Goodwood Park Hotel's snowskin mooncakes form a fruity medley that includes lychee with lime, mango with pomelo, durian and cempedak.
For years, Goodwood Park Hotel's durian mooncakes have reigned as one of the best on the Singapore mooncake scene. And, while many would crumble under the pressure and fail to live up to expectations after awhile, the D24 durian paste mooncakes (S$55 for four) are just as excellently done this year, if not better, as before.

The best of the group is the new mega mao shan wang snowskin mooncake (S$50 per piece).

The other new creation on offer this year is the lychee and lime marshmallow snowskin mooncake (S$45 for four), which is also surprisingly refreshing and light. Both newbies round out the array of the usual Goodwood fruity snowskin treats, the mango with pomelo (S$45 for four), D24 durian paste and cempedak paste (S$54 for four).

Exclusive Privileges
UOB, Citibank, DBS, CapitaCard Credit & Debit Cardmembers will enjoy 15% discount on all mooncakes and Goodwood Park Hotel Gourmet Cardmembers will enjoy 20% discount on all mooncakes, from 5 August to 12 September 2011.

UOB Credit & Debit Cardmembers will also enjoy an exclusive 20% discount on all mooncakes from 10 to 12 August 2011. (Collection must be done on the same day of purchase. Offer is not valid with other promotions or vouchers.)

Goodwood Park Hotel, 22 Scotts Road, +65 6730 1867/1868 (Mooncake Call Centre)
We also love Goodwood Park Hotel's durian buffet, which features some of the most amazing durian dessert creations. It's not available right now, but no harm whetting your appetite for next year.

Jewels Artisan Chocolate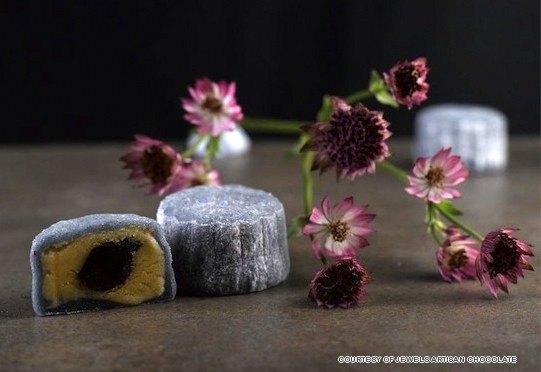 Offerings from Jewels Artisan Chocolate include the intriguing Korean black garlic flavour that's not as intimidating as it sounds.
Known for its exotic Asian-flavoured creations including the (in)famous Korean black garlic flavoured chocolate mooncake, Jewels Artisan Chocolate has now come up with an array of mini snowskin mooncakes which, unfortunately (or fortunately depending on your sense of culinary adventure), does not include the more exciting flavours like chilli.

Nevertheless, options such as the mini snowskin mooncake with espresso truffle (S$52.80) are deliciously smooth and quickly devoured. Also try the Korean black garlic mooncake (S$56.80 for eight), which isn't as scary as it sounds; the flavours are intriguing without being overwhelming.

Jewels Artisan Chocolate, Orchard Central, 181 Orchard Road, #02-31/32, +65 6509 8998, www.jewels.com.sg, info@jewels.com.sg

New Majestic Hotel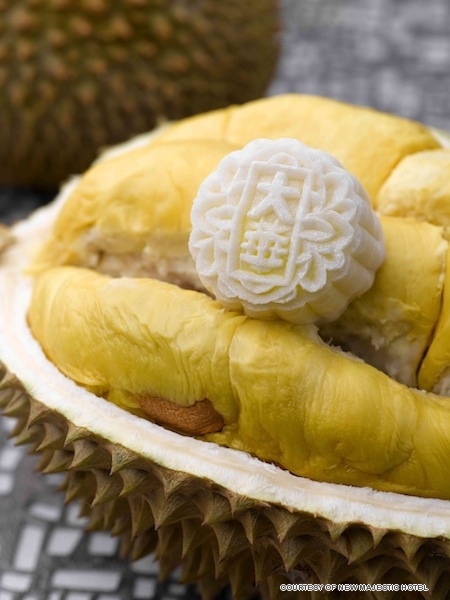 New Majestic Hotel's mini snowskin mooncake impresses with its luscious and creamy durian filling that's rich without being overwhelming on the palate.
Kudos to New Majestic Hotel for coming up with a selection of snowskin mooncakes that is just as impressive, if not more so, as its traditional mooncakes (which we've picked as our favourite Singapore mooncake for 2011).

Flavours such as kopi luwak (S$50 for eight mini mooncakes), yuan yang paste (S$48 for eight), black sesame paste (S$48 for eight) and lychee liqueur (S$48 for eight) are intriguing and well done, but it's the mini snowskin with mao shan wang durian paste ($56 for eight) that takes the cake with its luscious and creamy durian filling that's rich without being overwhelming on the palate — probably our favourite snowskin mooncake of the year too.

Majestic Restaurant, New Majestic Hotel, 31 – 37 Bukit Pasoh Road, +65 6511 4718, www.restaurantmajestic.com

Raffles Hotel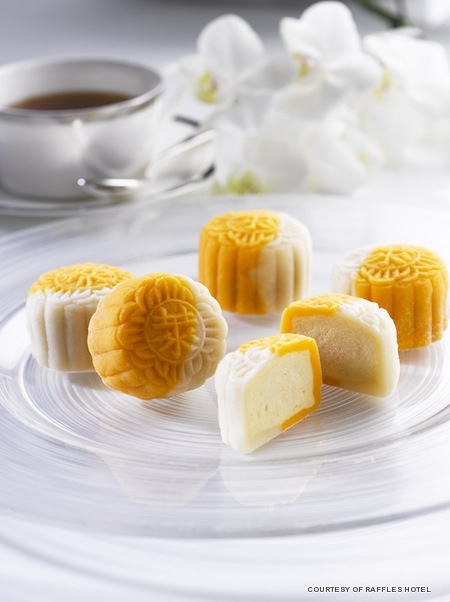 Raffles Hotel's latest offering is its durian snowskin mooncake, which pays tribute to the king of fruits.
As far as mooncakes that embody the meaning of "exquisite", Raffles Hotel's ever-popular snowskin mooncake with louts paste, Champagne truffle and ganache (S$60 for eight) continues to impress. It's not the easiest on your wallet, but it's worth every cent.

This year, Raffles Hotel also tries its hand at a durian flavour with its new snowskin durian mooncake (S$68 for eight pieces), which features oodles of the luscious pulp swathed in its signature soft snowskin.

Raffles Hotel, 1 Beach Road, +65 6412 1122, raffleshotel.mooncake@raffles.com