The local fashion industry is perhaps one of the most, if not the most, difficult industries to break into and survive in.

Aside from the intense competition for what already is a miniscule market share, there's also just the tiny problem of lack of support from Singaporeans for homegrown talent, a strange phenomenon that's plagued the local industry in almost all aspects (save for maybe food). Even noted fashion designer Frederick Lee himself faced the difficulties of carving a mark in the local scene when he first started out.

"The main problems most designers have are missing connection to their potential customer base, missing exposure and a downward spiral of low sale volumes," he laments. "[As a result] industry manufacturers are not interested in working with you, and you work with by far more expensive tailor shops next door." Naturally, this leads to higher production costs, and subsequently higher prices, fewer customers and a vicious cycle that perpetuates the lack of support.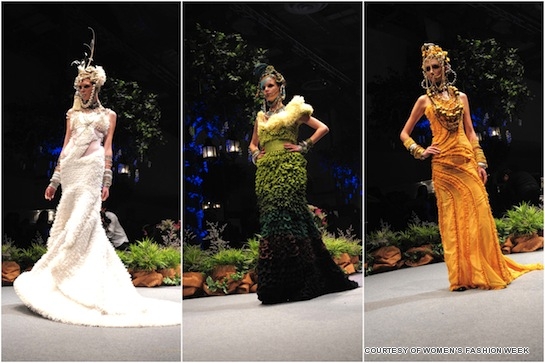 Frederick Lee's collection at Haute Couture Week took inspiration from the ethnic and tribal influences from around the world.
But with a combination of true grit and immense talent (he is renowned for creating gowns of ultimate extravagance as well as flamboyant and cutting-edge creations), the self-taught designer soon found success with his couture boutique Frederick Bridal, which was awarded "The Best of Singapore" three years consecutively since 2006 by the Singapore Tatler. Lee himself was named "Designer of the Year" at the Singapore Fashion Awards 2004 amongst many other accolades.

Today, his sense of efferverscent theatricality in his designs has earned him recognition as one of the most sought-after designers in Singapore, and he was also the director of costumes for National Day Parade 2008 and 2009 and the Youth Olympics 2010. More recently, his outrageous designs, inspired from the ethnic and tribal influences of Northern India, Kenya to Burma, were showcased at the haute couture presentations of Women's Fashion Week.

Not bad at all for a self-taught designer who began his career by creating garments for friends. But for Lee, it's much more than that. "Fashion is the business of selling dreams; one garment at a time," he says, and it's his palpable love, passion and sheer determination for the business that makes you understand why he's made it in an industry few have.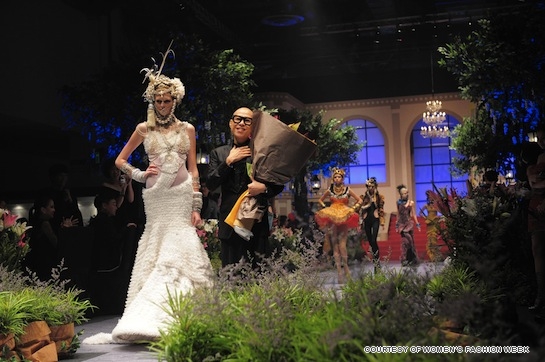 Frederick Lee is long renowned for creating gowns of ultimate extravagance.
LifestyleAsia (LSA): Fashion designer: not the most conventional career path especially for a Singaporean. How did you start out, and why this particular route?

Frederick Lee (FL): I fell in love with fairytale at a very young age, and I loved to design paper doll dresses, weaving stories around elements plucked from the world of legends, myths and magic. Till today I still enjoy the old world glamourous Hollywood very much — think Dietrich, Crawford in Balenciaga, Schiaparelli to Garbo and Davis in Vionnet or Dior. It's their positive exuberance and art-decor flamboyance and utter elegance that inspired me to look for perfection and glamour.

As a self-taught designer, I began my design career in my early 20s by creating and making garments for friends and slowly my confidence grew and my flair for the unusual is slowly honed.

LSA: What would you say is your signature look for your designs? Where do you get your inspirations from?

FL: I create clothes that reflects 'moments' and dreams rather than worrying about finding the next best-selling commercial designs. I believe in individuality and diversity; to create, to ignore conventions and to do away with the rituals of seasonal demands. Wearing a Frederick Lee couture creation will bring together the extravagance, the glamour, the wit and originality. I make clothes for the woman who is seductive, confident and feminine, and yet is enchanted by bold new ideas; never a dull moment in her life!

There are many great fashion designers that have inspired and influenced my works. Top on my list is Spanish-born, French couture designer, the late Cristobal Balenciaga, who was credited with changing women's silhouettes. Balenciaga was revered as a 'couturier of couturiers who created astonishment with his collections and the mastery of his cuts". I respect that kind of integrity and his creative ideals.

LSA: What's a piece of advice you'd like to give to all aspiring designers out there?

FL: In the words of Vivienne Westwood "Fashion is very important. It is life-enhancing and, like everything that gives pleasure, it is worth doing well."

Aspiring designers should be passionate and be inspired; be innovative and believe in individuality and diversity. To create, to learn, be able to display new ideas and details in their designs. Be able to accept rejections and criticisms; constantly challenge themselves to develop something authentic, indulgences and unique craftsmanship that show off modern twists and techniques. Fashion is the business of selling dreams; one garment at a time.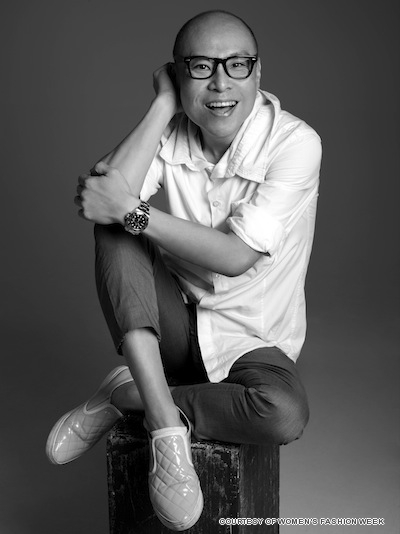 From paper doll dresses to magnificent haute couture creations — Frederick Lee is one of Singapore's most celebrated fashion designers.
LSA: What has been the proudest moment of your career so far?

FL: I'm still waiting for that fashion moment because every day is still a learning experience for me and I believe my best work will be when I'm 60! However if I were to relive my proudest moment, it would be the creation of the costumes for the Opening and Closing Ceremonies of the inaugural Youth Olympic Games Singapore 2010.

I have been challenged and inspired to create new costumes for an international event that would inspire global unity and national pride; in the context of an event celebrating youth in sports, as well as marking a new chapter in Olympic sporting history.

LSA: Your schedule must be crazy — how do you unwind and relax?

FL: Our ability to relax has lots to do with what is going in our minds, but minds can be hard to quiet down so its easier to begin our quest for total relaxation, by making our body inhabit as comfortable as possible to live in. I never fail to enjoy tantalising myself with essential oils poured on warm water. I love mixing up a cocktail of aromatherapy consisting of clary sage and ylang ylang for the hot tub.

Once a week I get my Javanese therapist to come in to give me an Indian head and body massage, followed by a blissful de-stress facial. Healing incense can also get me to recollect exotic travels and places and suddenly I will escape into a blissful relaxed mood.

LSA: What big plans do you have, fashion-wise or not, in store next?

FL: Next year will be 20 years of Frederick Lee. A celebration, a retrospective, a gala couture show, a book… They are all in the planning, so watch this space!