Porsche's Gran Turismo family has just gotten a little bigger. Launched last Friday at the Porsche City Centre in Singapore, the new Panamera GTS is considered the purist, and the sportiest member of the GTS range thus far, with a guarantee of extraordinary Porsche performance.
Check out our video coverage of the launch of the Porsche 911, the seventh edition of the iconic 911.
"Along with the historic GTS badge comes a promise that you're driving an extra special Porsche and we are certain the Panamera GTS will not disappoint both in terms of performance and practicality," says Karsono Kwee, executive chairman of Eurokars Group of Companies.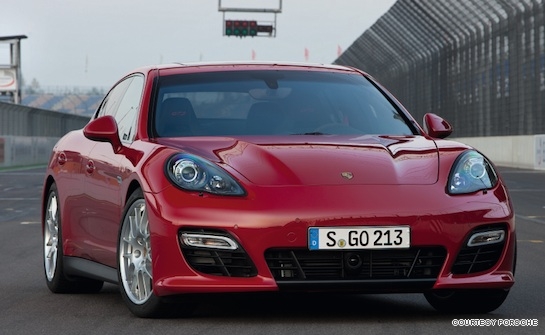 The Panamera GTS isn't just another sports car — it's designed to fit even the race circuits.
The Panamera GTS comes equipped with a bunch of improvements and modifications, including a more powerful engine and increased torque — this allows the car to sprint to 100 kilometres per hour in under 4.5 seconds, and also accelerate onto its top speed of 288 kilometres per hour. But even with its increased power, fuel consumption remains as efficient as its other Porsche siblings.
The improved chassis however, is one of the car's more impressive new features, designed to be particularly dynamic and agile, thus making the car fit even for the racing circuit. Yes, that's right — it's a four-door sports car that's as suitable for the highways of ECP as it is for the Singapore Grand Prix.

Even if you're no car person, the new Panamera GTS is a winning combination of sexy and sporty at first sight. Add in a promised supreme performance and you have a car that's possibly the most lust-worthy vehicle launched so far this year. Prices start from a cool S$473,888, inclusive of a five-year free maintenance and warranty program, market- specific equipment, GST but excluding COE.
For other car launch videos, don't forget to check out the launch of the Audi A6 Avant, the Ferrari 458 Spider, and the new MINI Coupé.