Imposing and powerful, the Mercedes-Benz M-Class SUV is not exactly a car you would associate with fuel efficiency. However, with its new 2012 M-Class model, recently launched in Singapore, Mercedes-Benz seems to have found the balance between luxury, utility and efficiency.

With the new M-Class, you get all the utility of a large SUV and the refinement of a luxury saloon but without the burden of an pricey fuel bill. The most frugal in the new range is the ML 250 which will manage 6.0l/100 km on the combined cycle without a significant compromise to performance and can do 0-100km/h in a respectable 9.0 seconds.
The 2012 Mercedes M-Class may have bee substantially upgraded from its predecessor but its pricing still remains, highlighting Mercedes-Benz's customer centered approach.
This amazing achievement in efficiency, lies in its new BlueTEC 4MATIC function engine which promises greater fuel efficiency without sacrificing engine power.

At full tank capacity, the ML250 delivers an impressive range of 1170km for the 70-litre tank and 1500km for the optional 93-litre tank upgrade. In comparison, the new M-Class consumes a quarter less fuel than its predecessor, making it the most economical vehicle in its segment.
Besides the new Mercedes-Benz M Class, another recently-launched luxury vehicle that has greater fuel efficiency is the Porsche Boxster and Boxter S.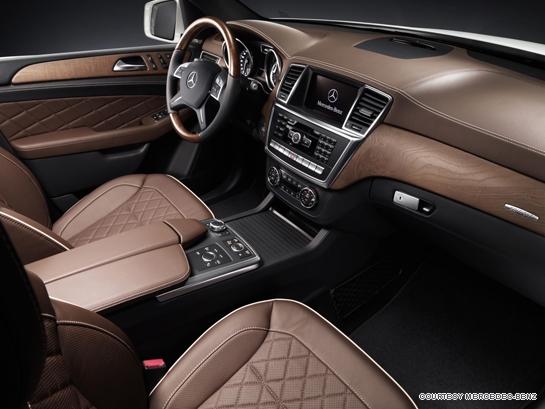 Along with its sleek, sporty exterior, the Mercedes M-Class exudes luxury in its interior, complete with full leather interior and spacious leg room.
The new M-Class retains the characteristic body design with the hallmark C-pillar, creating a distinctive presence on the road. On the front, the large radiator grille dominates the design, creating an athletic appeal to the vehicle which is also further enhanced by the gently sloping roof line.

While the new M-Class might not be as performance-focused as some of its rivals, its refinement and efficiency will likely set it apart as possibly the most practical in this luxury SUV segment.

Prices start at S$307,888, inclusive of COE, for the ML 250 BlueTEC 4MATIC.