You don't get to become one of the most prominent names in Singapore's theatre scene without paying your dues and some gruelling hard work. Just ask director Glen Goei, whose repertoire includes everything ranging from film, theatre (in particular, one memorable moment performing opposite Sir Anthony Hopkins), musicals to even parades and large scale shows over a 22-year period.

His latest project at hand, directing the local production of the wildly popular Broadway play La Cage Aux Folles, is no exception. "I wake, eat, work, sleep and dream La Cage. I can't do anything else. It's all-consuming when one is creating art."

And indeed, there's little that Goei (who cites films like Cabaret and Cinema Paradiso as his favourites) wouldn't do in the name of art and his passion for story-telling, whether it's "getting actors to find the truth in their performances" when directing in film and theatre, or walking down Orchard Road in drag to promote La Cage.

Ahead of La Cage's opening night this weekend, we chat up Goei and have him tell us what to look forward to in his adaptation of one of the campiest and most fabulous Broadway plays. Hold on to your glitter and tail feathers!
Don't miss our interviews with other local theatre stalwarts such as Dick Lee and playwright Alfian Sa'at.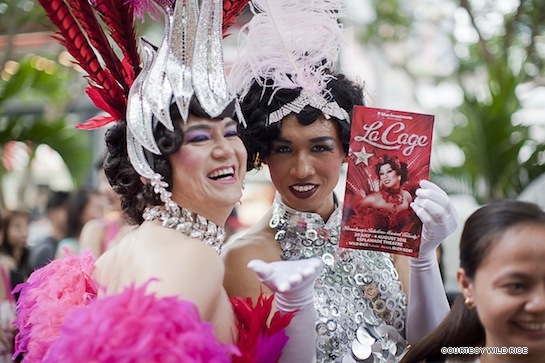 Dressing up in drag to promote his latest production of the popular Broadway play La Cage Aux Folles? All in a day's work for theatre director Glen Goei.
LifestyleAsia (LSA): What the audience should expect at La Cage?

Glen Goei (GG): A VERY good time! The show is hilarious, a spectacle and full of heart!


LSA: How will you be giving the Singapore adaptation its own local flavour, besides the fact that it's set in a Tanjong Pagar club?

GG: The characters will be completely identifiable and which local audiences can relate to. The issues of modernity versus conservatism, as well as tolerance and diversity, are some that we struggle with on a day-to-day basis in Singapore.

LSA: What do you want the audience to take away from the play?

GG: I hope they walk away with "their eyes more opened", and hopefully look at things from a different angle.

LSA: What has been your most memorable moment of working on La Cage?

GG: So far, hearing the audience react to the song and dance number we performed from [La Cage] at this year's PINK DOT concert was very memorable! And of course how can I forgot walking down Orchard Road in drag (yes, me included!) to promote the show.

LSA: What's your next big project after this?

GG: The only thing on my horizon is my 50th birthday party and that promises to be one big production number!

LSA: What do you do when you're off the clock, when you do find the time, that is?

GG: I love reading either by the pool or watching indie films in my treehouse living room. I also try to do yoga when I can.

La Cage Aux Folles will run from 20 July – 4 August 2012 at the Esplande Theatre. Please visit SISTIC for more ticketing information.