It's hard to look at Car Shoe's signature moccasin with tiny rubber nubs and not draw parallels to the driving shoes of a certain other Italian label. But according to people in the know, Car Shoe, which was created in 1963 by race car enthusiast and artisan shoe maker Gianni Mostile and later acquired by the Prada Group, represents the very origin of the driving shoes that have been popularised by many other brands today.
Other comfortable and fashionable shoes we love this season: the Valentino Garavani espadrilles.
We're not going to dwell into the details of that, however, and instead, concentrate on just the important stuff: Car Shoe's impeccable craftsmanship and surprisingly contemporary styles in its Spring/Summer 2012 collection for the fashion-starved and functionality-focused ladies and gents, now available in Singapore.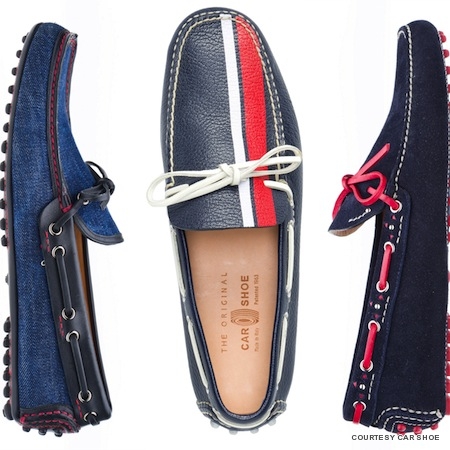 The extremely comfortable and enduringly stylish driving shoes for men from Car Shoe's Spring/Summer 2012 collection go perfectly with a nice pair of tailored shorts or chinos.
In true Car Shoe fashion, each and every pair of its meticulously-crafted shoes are made from only the finest leathers from the best tanneries, entirely sewn together by the artisan using a needle and thread. Combined with its cushioned insoles and dimpled rubber soles, these driving shoes make for extremely comfortable footwear. They don't disappoint on the fashion front either.

For the men, shoes come in a variety of colours, ranging from the familiar shades of blue and brown to the bold hues of orange and purple, sometimes interweaved with contrasting rubber nubs and laces that give the otherwise monotonously-coloured shoes a pop of colour.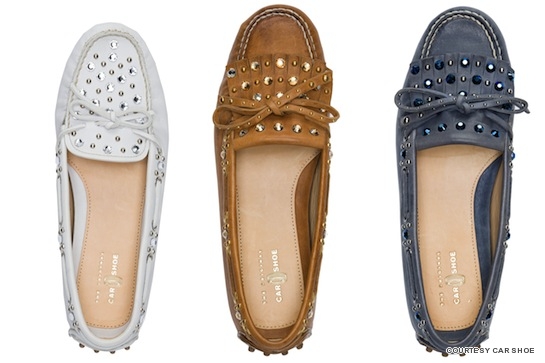 Car Shoe's Spring/Summer collection for women presents colourful wedges and animal-print sandals but we still love its bejewelled driving shoes best.
Colours and styles get even more exciting for the ladies, which seem to have taken inspiration from the African land. There are cork wedges with brightly-coloured straps, strappy sandals with animal prints and our personal favourite, bejewelled driving shoes that are enduringly stylish and perfect for sprucing up even the most casual of outfits. Let your Car Shoe shoes do the talking this Spring/Summer season!
Car Shoe, ION Orchard, #01-26, +65 6238 0142