If you're a fan of the Audi A7 Sportback, this one is a no-brainer for you. The latest addition to the Audi S family is the S7 Sportback, the sports version of the A7. At first look, the body of the car looks pretty much the same, its sleek, aerodynamic shape similar to its predecessor. It's the engine inside, however, that brings out the big difference; the S7′s impressive 420 horsepower engine is a significant improvement over the top-end A7′s 296 horsepower output.
The S7 Sportback hits 100km/h in just 4.7 seconds, thanks to its 4.0-liter twin-turbocharged TFSI V8 engine. Also if you're of the opinion that bigger is better when it comes to your wheels, another thing you'll be pleased to note is that the S7 Sportback allows for wheels of up to 21 inches.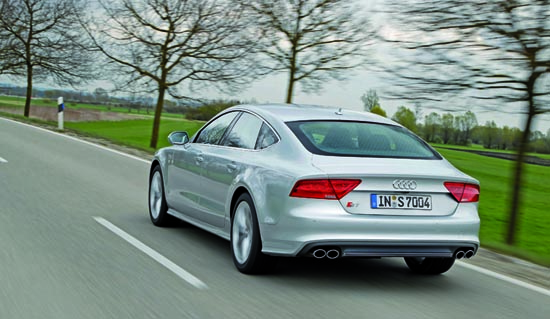 High-end options of the S7 include driver-assistance systems like adaptive cruise control and a night vision assistant that highlights detected pedestrians, as well as an ambient lighting package.
We are, however, more excited for the new built-in technology in the S7. It's nothing particularly groundbreaking like the futuristic Audi RSQ in I, Robot (we can dream), but the new WLAN hotspot abilities which includes an in-built Google Maps for navigation as well as wireless hotspot connectivity are still pretty darn cool.
If the engine upgrade isn't enough of a difference for you, the S7 Sportback does in fact have a few minor interior and exterior cosmetic upgrades from the A7. Details on the bumpers, a single-frame radiator grille and exhaust tailpipes as well as extended aluminium mirrors complete the look of the S7. And of course, the S model wouldn't be complete without sports seats and integrated head restraints.
The Audi S7 Sportback is available in Singapore at a RRP of S$429,150.